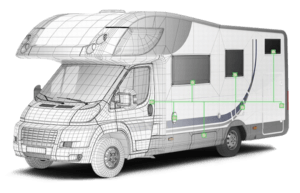 Are you tired of worrying about your belongings being stolen during your tour? Our smallest, electronic furniture locks offer the perfect solution for campers, vans and caravans.
Our locks prevent the interior from being opened unintentionally while driving. With the simple and quick installation of our locks, you can protect your property without damaging your vehicle.
In addition, our locks offer a certain level of security against theft. Hidden options of storage make it much harder for thieves too loot your van.
PS-recommendation: We recommend the SOLO lock – it will get opened with a keycard and is powered by battery. This means that the lock can be used independently of the vehicle's electronics.
Further options: Our MINI lock – it is connected to a power source in the vehicle, so in the event of a power failure it remains in the state it was in after the vehicle is parked (open or closed).
Protect your valuable items on board with electronic, invisible furniture locks. They provide a safe and effective way to lock important areas on boats and yachts to prevent theft.
The locks make it possible to control access to drawers and cupboards. So you can be sure that your valuable items are safe and secure at all times.
PS-Recommendation: For this situation, we recommend our SOLO lock. With the SOLO lock, you not only have the most freedom when it comes to mounting – you can also choose between battery operation or direct power supply, For this situation, we recommend our SOLO lock.
Further options: The combination lock TEN could also be a possibility. However, a keyboard must be attached to the outside of the piece of furniture.