Changing rooms and lockers in the public swimming pool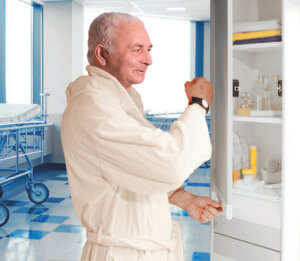 Our electronic furniture lock offers an innovative solution for keeping your valuables safe while you are in the pool. Thanks to our electronic lock, you can safely store your personal belongings in a locker and no longer have to worry about someone opening the locker without authorisation.
Our electronic furniture lock is user-friendly and easy to operate. All you need is a bluetooth-enabled phone or a pin code. So forget the key for the locker, you can lose it. With our lock, you can concentrate on your swimming experience and relax while your valuables are kept safe.
PS-recommendation: The SOLO BT can be integrated into the pool's access system via open API. An open/close impulse is sent to the lock via the telephone.
Further options: The MINI lock is recommended if the opening and closing of the lockers is to be controlled via a central relay, for example with a directly generated code.
open locker choice in gyms
Electronic furniture locks are not only suitable for the secure storage of important documents and files, but can also be used in leisure facilities such as gyms.
Instead of using mechanical locks with keys, gyms can now offer free locker selection. Visitors select a locker and open or close it either with a card or via a Bluetooth app.
This provides a safer and more convenient option for members. You don´t have to carry keys anymore. The lockers cannot be opened by unauthorised persons and the contents are safely stored. Electronic furniture locks are therefore an ideal solution for leisure facilities that want to offer their members a modern and practical wardrobe solution.
PS-recommendations: SOLO – with the GYM update (open locker choice) Each member can occupy a free locker with his own key card and also open it again. After opening it once, it is free again.
Further options: TEN– combination lock in public mode. A code is entered once here and confirmed with a tick. After opening, this locker is free again and can be occupied by the next visitor.