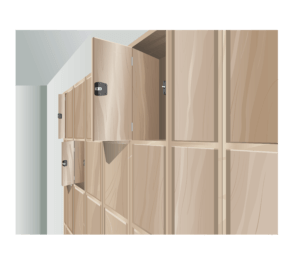 Safety and comfort are important factors when it comes to storing your personal belongings personal belongings. That is why we offer you our electronic furniture locks, which are available in Self-storage and rental storage applications to be used.
Our electronic furniture locks offer you free choice in booking your storage boxes. You
can book conveniently and easily online or on site and receive your personal access code directly after of the booking. This gives you access to your stored items at any time.
Our locks are able to be integrated into existing software. So, thanks to the Open-AI technology, code distribution or the like is not a problem.
PS Recommendation: PAD ll – the PAD padlock with Bluetooth is certainly the best option for a rental warehouse, the PAD is very robustly built. The zinc die-cast housing and the hardened steel shackle make the lock versatile.
Further options: SOLO BT – the SOLO Lock with Bluetooth. This can be easily operated through an app. A code is requested once for use – after that, the lock can always be be opened and closed again via BT app.
TEN Lock – here a code is programmed once by keypad and with this the compartment can then be opened again and again.