Drawers | Cabinets | Sliding doors
Whether it's store fixtures, store interior or simple drawers, sliding doors or cabinet doors, electronic hidden furniture locks are suitable for all applications.
Only the assembly is different. But the safety is always guaranteed regardless of the application. Electronic furniture locks protect against unauthorized access to your items.
PS Recommendation: The SOLO lock is perfect for locking furniture and managing access by employees. Through the simplest programming, the key cards of each employee can be recorded on the locks, cabinets, drawers, etc. accessible to them.
Further options: The SOLO BT lock is the Bluetooth variant. This allows you to perfectly manage the accesses of your employees.
When talking about store fitting, showcase construction and display cases, safety is an important factor that is often neglected. Our electronic furniture locks offer a simple and effective way to protect your valuable goods and products.
With these locking systems, you can securely lock cabinets, display cases and showcases and grant access only to authorized persons. This means that you no longer have to worry about the theft of your goods and you can receive your customers with a sense of security and confidence.
You can be sure that with our locks you will get a high quality and reliable solution that will help to present your goods and products safely and securely.
PS recommendation: The MINI lock is powered by electricity and controlled by a relay or switch. This ensures that the showcase or display case is optimally secured.
Further options: The Beetle lock is a very small lock and also has a metal housing like the MINI lock and can be controlled directly with electricity.
Provided there is enough space, the SOLO lock, the most widely used product, can also be used, as it has an RFID reader.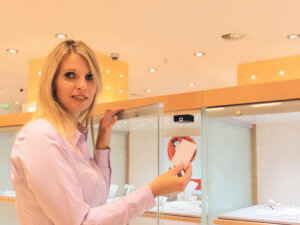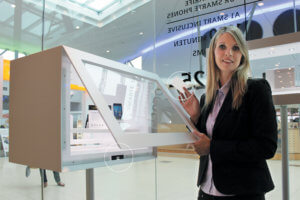 Theft, and especially theft by employees, is unpleasant and happens more often than you think. This can be very well prevented by the use of electronic furniture locks. A cloud, which is already included in the Bluetooth model and can be added externally in the RFID variant, can be used to control access to certain locks. Thus, it can be traced exactly when and by whom a cabinet has been opened.
This application makes it much easier for a store owner to find out which employee/staff member might be responsible for the theft.
PS recommendation: The lock SOLO BT with the Bluetooth variant, has an integrated cloud and in the "PSLocks" – app is already displayed the entire history about the openings and closings.
Further options: The SOLO lock 125 kHz with key card is also a possibility. However, an external cloud must be added here.
In today's world, technology plays an increasingly important role in shopfitting. But how do you protect your displays and the technology underneath from theft and damage? Our electronic furniture locks offer an ideal solution to secure your valuable technologies.
This way you can be sure that your technology is protected from unauthorized access. You can be sure that with our locks you will get a high-quality and reliable solution that will help keep your technology safe and secure.
PS recommendation: The MINI lock is controlled by electricity and can be opened or closed by a switch or relay. This is the best solution for locking displays and their technology.
Further options: The SOLO lock can also be used for this purpose. It is controlled in the same way with electricity. However, a variant equipped with a battery is also available here. The lock is opened and closed by RFID key card. However, it is slightly larger than the MINI lock.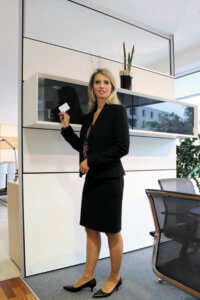 Opening of more than one lock at once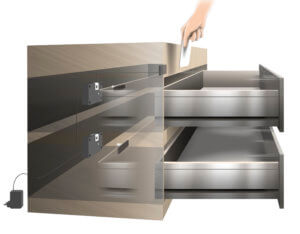 Several drawers or cabinets should be open at the same time, but the rest of the time they should be locked. No problem with the electronic, invisible furniture locks from PS Locks. The locks can be connected into a group and opened and closed at the same time. For example, all locks can be opened in the morning and closed again in the evening.
It is often tedious to open and close all drawers or cabinets manually and individually. This is no longer necessary due to the formation of lock groups.
PS recommendation: SOLO + SOLO Secondary– here a SOLO lock can be used as master, this can be connected with up to 5 SOLO secondary locks. The SOLO acts as a master and sends pulses to the secondary locks. When the master lock opens, the secondary locks open as well.
Other variants: Master lock + Secondary – there are many more ways in which secondary locks can be controlled with a master lock.
Make your store efficient and secure with our electronic furniture locks. Our locks are ideal for store fixtures and allow you to easily monitor and secure your items. With our innovative technology, you can ensure that only authorised persons have access. The goods are definitely protected from unauthorized access at all times. Our locks are installed on the inside of the cupboard door/drawer and thus do not interfere with the design of your piece of furniture.
PS recommendation: The SOLO 125 lock has a locking part and can be easily opened via key card – so all employees can receive a card and access the locks programmed for them.
Further options : The SOLO BT lock with control via Bluetooth app could also be a possibility for this. A cloud is provided here, so it is possible to control exactly when which lock was opened and how long it was open.